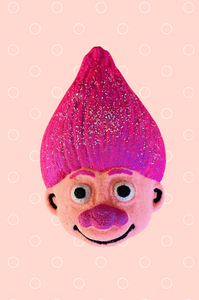 Poppy Trolls Bath Bomb
Amazing handmade Trolls Bath bomb, scented in the fun fragrance of Cotton Candy and Bubblegum, the kids will love the colours that will pop out of these bombs and fill the bath with their skin safe bubbles and skin loving oils. 
Ingredients: 
Bicarbonate soda, citric acid, olive oil, cream of tartar, sodium lauryl sulphoaceate, polysorbate 80, fragrance oil and body safe colourants. 
Care instructions: 
Only use bath bombs in a clean tub, as the dyes from the bath bombs, while safe and harmless, can stick to soap scum on the sides of the tub which can (but not always) lead to staining. Rinse the bath tub out after use. The bottom of the tub can become slippery from the oils used, so use caution when getting in and out of the tub. Avoid holding the bath bomb while it's fizzing, as the dyes can go onto your skin. Always be vigilant with young children and using bath bombs in the tub. Never leave unsupervised. 
Handmade by the amazing Alchemy bath and body. 
---