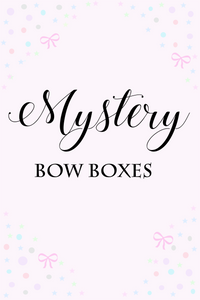 Mystery Bow Box
Yay! Mystery Bow Boxes have finally arrived at Little Miss Bowtique. 

Mystery bow boxes are available to suit your budget for either a gift or a treat to your little babe!

Each bow box will contain different bows, some exclusive to mystery box and some from our etsy store. Boxes will also include snap clips and some of our gorgeous alligator novelty designs (e.g. felt heart clip) Customers can choose the finish of the bows for their boxes at checkout. 

If you have any more questions regarding mystery boxes; feel free to send me a message.
---