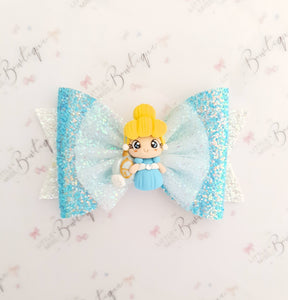 Cinderella Inspired Clay Bow
Cinderella Princess Bow
Is your little one obsessed with Disney Princesses? Our Cinderella princess bow is one of many inspired bows that every little girl will love. Not only are they sparkly and have little princess clays, but they are extremely eye catching because of their size. Out Cinderella Princess bow measures at 10.5cm long and 5.5 in height. 

This bow is perfect for themed birthdays and events. Can even be worn around the house as they dress up as their favourite Disney Princess. 
Product Details:
Size: 10.5cm - Tail to tail. 
Material: Faux Leather and Glitter fabrics. 
Finish: Metal Alligator hair clip or nylon headband.
Please Note: 

This is not a toy and is made of small materials that a child can potentially choke on. Please supervise your child when they are wearing these products and remove them before they sleep/nap.

* Colours may vary due to monitor settings.
---